BVT Bremen GmbH & Co. KG
A Heinrich Rönner Group Company
BVT Bremen GmbH & Co. KG is a subsidiary of HEINRICH RÖNNER GROUP. With our headquarters situated in Bremerhaven and our main production facilities situated in Bremen Vegesack - formerly Bremer Vulkan shipyard – where we have been operating as Vulkans' successor company for over 20 years, carrying on the shipbuilding tradition.
From manufacturing shipbuilding sections and the newbuilding of various ships, we extended our range of production, now also serving the offshore sector – ranging from steel components for the extraction of oil or gas - and most recently – offshore wind energy. With our expertise and experience we meet and maintain the highest standards of said industry sectors. Over the course of the past five recent years, we expanded our portfolio, we offer engineering solutions, e.g. the production of industrial plants for various sectors.
Our diverse fields of activity & expertise enable us to process orders across multiple locations of HEINRICH RÖNNER GROUP, allowing us to generate optimal customer-oriented solutions.
BVT Bremen GmbH & Co. KG
Zur Westpier 40
28755 Bremen
Phone:
+49 421 620098-0
Fax:
+49 421 620098-10
Email:
bvt@bvt-bremen.de
Recent
SET celebrates launching of workboat "Seegeist II"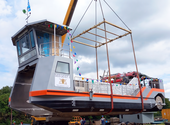 The first of three aluminum workboats for the Bodensee, each 15 meters long and almost six meters wide, built at the Genthin shipyard of SET Schiffbau- u. Entwicklungsgesellschaft mbH, was named "Seegeist II" on August 30 and set floating on a crane hook in the Elbe-Havel Canal.
Read more